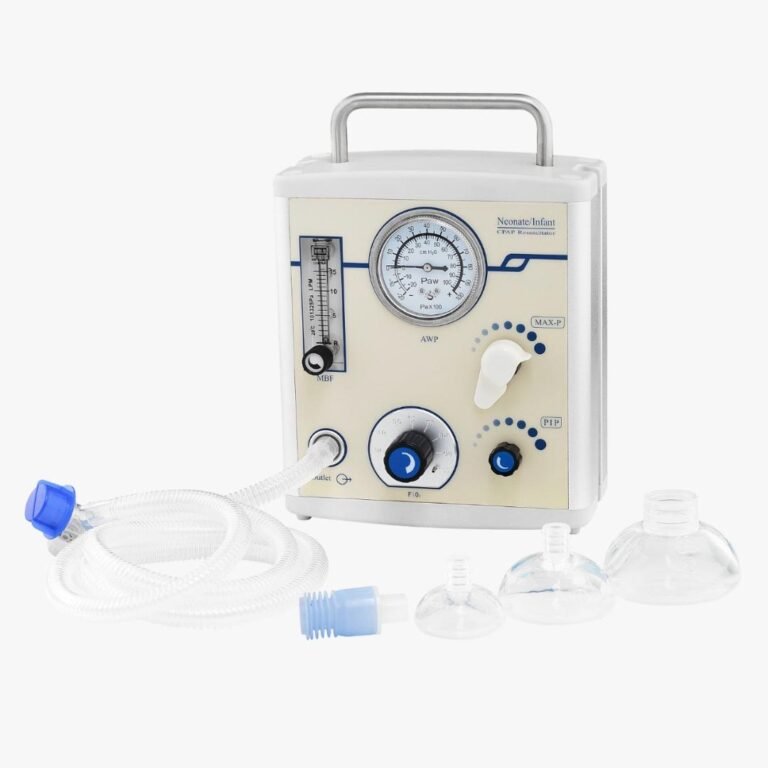 Respiratory aid important for a number of reasons. They help people with respiratory problems to breathe easier, and they also help to improve the overall quality of life for those with respiratory issues. A respiratory aid can make a big difference in the life of someone who struggles with breathing, and it is definitely worth considering if you or someone you know has difficulty breathing.
It's significant for newborns while still growing and developing. Therefore, it's so important to make sure their respiratory systems functioning correctly. Also, a respiratory aid help to ensure that your baby's getting the air they need to grow and thrive.
So, resuscitators essential for health professionals who work with newborns. Various types of infant resuscitators, and each one has its own set of benefits and drawbacks. Therefore, its crucial to select the correct kind of resuscitator for the situation and know how to use it properly.
The infant resuscitator a staple in hospitals for years. This device helped save the lives of countless newborns, and its use is becoming more widespread.
In addition, a baby's lungs not fully developed at birth and need help to work properly. That's where respiratory aids come in. Respiratory aids help infants breathe by providing extra oxygen or by assisting them in clearing secretions from their airways.
The infant resuscitator – a device used to treat newborns while they do not breathe or at a low heart rate. This device also provide oxygen to the baby's lungs and increase the heart rate.
Thus, a resuscitator a must for any hospital, clinic, or birthing center. In other words, using resuscitator to resuscitate infants when not breathing or have a weak pulse
Infant resuscitators an essential medical equipment for any hospital, clinic, or doctor's office.
When an infant not breathing, every minute counts. That's why it's essential to have a reliable infant resuscitator on hand in case of an emergency.
Resuscitators used to revive a newborn in-case of non-breathing or when difficulty breathing happens.
Many different types of infant resuscitators available in the market, and its vital to select the right one for your needs.
Also, needed especially for lung disease, apnea, and other respiratory problems.
This devices generally used in, Deliver rooms, Hospitals, Nursing homes, Rehabilitation centers, and Neonatal care units or wards.  
CHARACTERISTIC/SPECIFICATIONS
The device easy to operate.
Temporary breathing aid for newborns.
Perfect equipment in case of emergency.
Well designed with an alarm system.
Also, supports up to the weight of 10 kgs.
Efficiently and effectively adjusts the flow of oxygen concentration.
Provides flexible working.  
While the process of renewing an infant is relatively simple, it's essential to follow the proper steps to ensure the best possible outcome.
The device used by professionals only. The hospital or NICU staff s the people right people to use it. The device used as a respiratory aid to the patient.
An oxygen concentration tank with 10 kg of oxygen. It supports an infant's breathing in case breathing stops voluntarily, and external support is needed.  
The flow of oxygen concentration adjusted quickly. The advised flow between 21% to 100%.
The flow range: 5LPM to 15LPM.
The pressure emitted from the device to support breathing and prevent fatigue.
It has a proper alarm system to avoid system failure, flow change, etc.
When the alarm blares, the safety valve starts working. To ensure the precise gas emission from the device.
Medical devices are developed with a vision to ease the treatment procedures and to narrow down the risks elements involved in any treatment. Respiratory aids are the most significant helping hand for any medical professional in the case of a newborn or an adult.
An infant resuscitator is a vital piece of emergency medical equipment. It is used to help newborns who have difficulty breathing and can sometimes be the difference between life and death. Infant resuscitators can be found in hospitals and NICUs around the world. Capable of providing positive pressure ventilation and oxygenation to newborns who are not breathing, the infant resuscitator has helped save countless lives.