Long eyelashes, perfect lips, feel how strong her fingers grip!
Neotherm utilises an innovative servo controlled design with instant feedback, monitoring the infant's temperature every 2 seconds and making minute changes to the cooling fluid to ensure that the infant's temperature remains stable. It is a closed-loop control sys
Cooling Blankets Help save Babies Lives in the NICU
tem consists of a mattress that is wrapped around baby's trunk and legs. The device is fully automated and required no further input after initiation. The baby temp is cooled from 0`C to 33.5 `C within 25 min. This temperature is maintained for 72 hours and a fully automated re-warming process 0 starts. The re-warming process occurs to 37` C at 00.2 to 0.5 C/hour.
A rectal probe is inserted into the patient upto 5 cm approx and the temperature is fed back to the Neotherm in using a thermoelectric cooling module. The temperature of the cooling fluid is controlled by varying the amount and direction of electrical current. This increases and decreases the fluid temperature by small amounts. The fluid is then passed around the fluid infant using a mattress or a warp and returned to the Neotherm. The thermal properties of the fluid make it extremely efficient at heat transfer and the Neotherm uses surprisingly little energy to maintain a constant temperature.
It induces cooling rapidly to the desired core temperature. It maintains the core temperature tightly within the target range. It does not interfere with access to the baby. Three modes of operation for maximum flexibility are there. Clinician can set and adjust parameters at the start and throughout treatment. Data storage for allowing simple analysis of temperature profiles. Large colour screen is easy to see across the room.  It is Small and Lightweight portable device. Internal battery restarts from same settings in event of power failure. It is Smooth, linear rewarming. Compatible with reusable or disposable accessories. Optional use of skin probes. It maintains normothermia after rewarming.
Gentle and effective phototherapy for newborns
Beside exchange transfusion, Phototherapy is the unique treatment for hyperbilirubinemia of the newborn. Its potency to decrease bilirubin level relies on the irradiance dispensed at the skin level by the device (in the 430-490nm range) and on the exposed surface of the baby. LED Phototherapy is based on the principle that living cells are able to absorb and are influenced by light and the treatment has long been recognised for its regenerating and anti-inflammatory properties.
Phototherapy with bright super flux LED based unit and 15 bright LED lamps specially made for phototherapy treatment.
LED life time almost 25 times more life than any other conventional phototherapy lamps, fifty thousand burning hours.

LED driver energy saving specially made SMPS electronic driver.

Treatment maximum irradiance at skin level.

Inbuilt Digital timer for Total lamp usage and patient exposure.

The light intensity is constant for 20,000 hours—ensuring that treatment of jaundice is effective.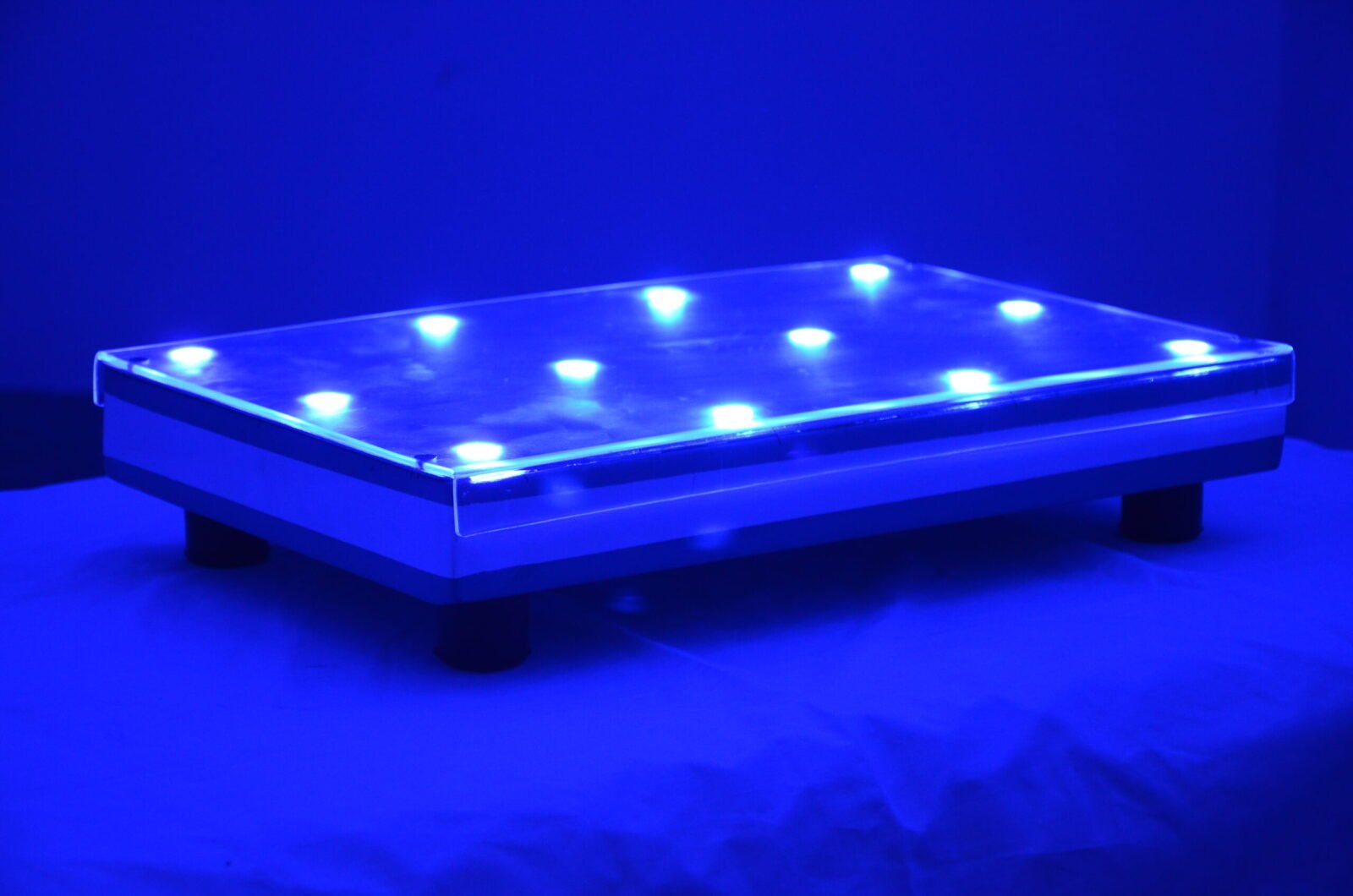 LED PT delivers blue light with the peak intensity at 455 nm. There is no unwanted UV and IR radiation on the baby.
Radiant heat warmer for neonates
Radiant Warmer, is a body warming device to provide heat to the body. This device helps to maintain the body temperature of the baby and limit the metabolism rate. The heat loss in some newborn babies is rapid; hence body warmers provide an artificial support to keep the body temperature constant.
Radiant Warmers consists of an open tray where the baby is kept and the artificial heating is provided by a heating mechanism mounted overhead. The heating mechanism consists of quartz which produces the desired heat and a reflecting mechanism to divert the heat at the baby tray.
 The skin temperature of the baby can be monitored by a temperature measuring knob that is kept continuously attached to the body. The variation in the skin temperature can be seen on a small LCD panel which continuously shows the body temperature.
Radiant warmers are equipped with alarm to indicate the change in temperature and hence attract attention of medical professional attending the baby.
The heat generated can be controlled manually by a knob as well as automatically depending on the Radiant Heat Warmer.
Power source: 230V AC , 50Hz

Light source: 9W LED Bulb 

Power consumption : 650 w at 1000% heater power

Safety Alarms
Skin temp. high

Skin temp. low

Heater fail: heater open

Skin probe fail

System fail: Heater drive fail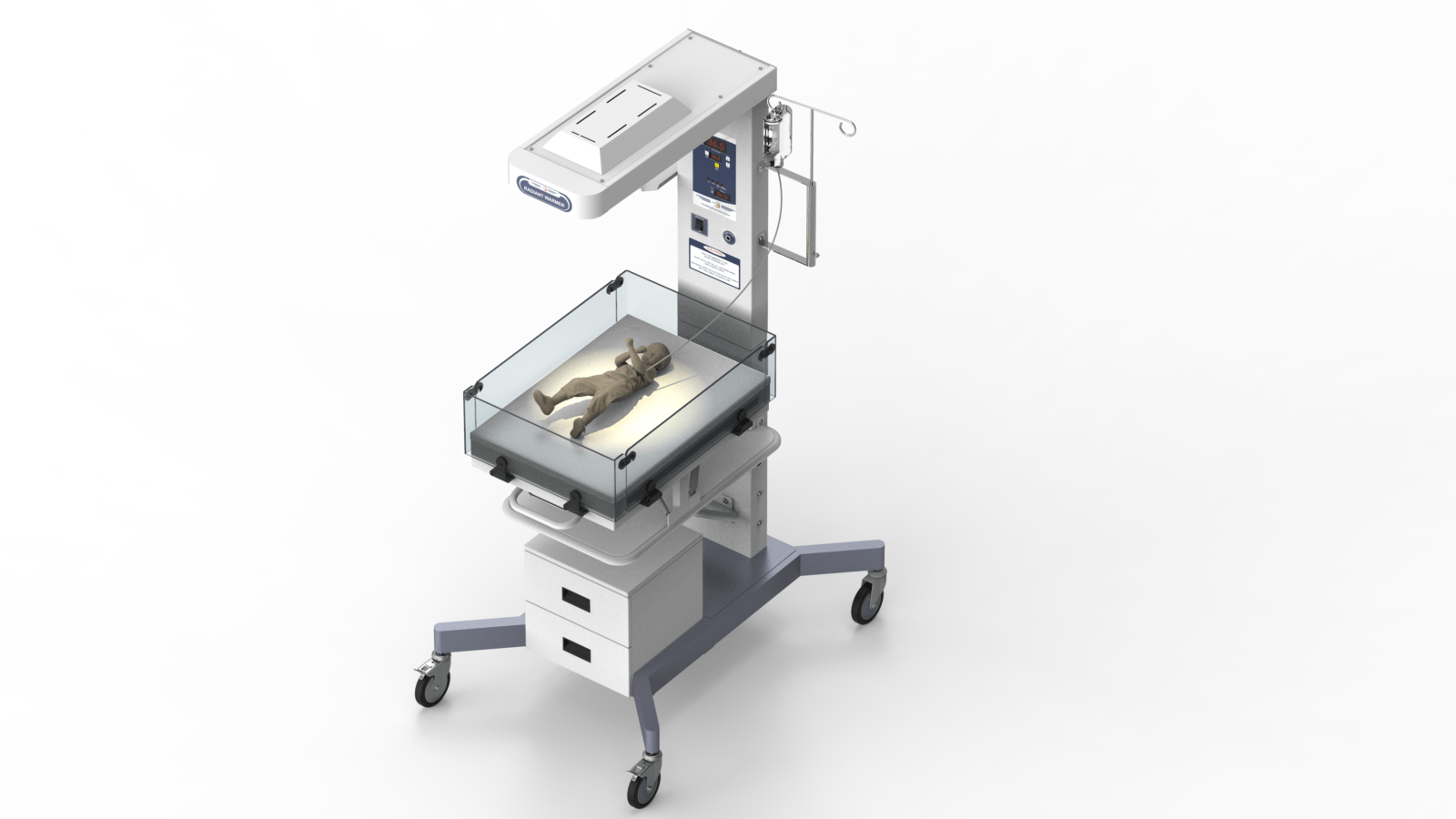 Microcontroller based Thermoregulation mechanism.

 Large bright displays are easy to monitor and for viewing from a distance.

 Double digital display system provided to measure the Infant temperature and to set the required temperature. 

Feather touch keys provided for easy operation
"Parents of premature infants have a right to expect that their child will be housed in a clean, safe environment."
The baby incubator is a rigid box-like enclosure in which an infant can be kept in a controlled and enclosed environment for observation and care.This device include heater, a fan, a container for water to add humidity, a control valve through which oxygen can be added, and access ports for nursing care. Baby Incubator is used in birthing centres and neonatal intensive care units.
The perfect neonatal intensive care for your young ones
It gives warmth and respiratory support to babies who are born prematurely or with an illness that makes them vulnerable for the first several months of their life. Infant incubators provide low birth weight babies with a hygienic environment designed to control temperature and humidity. They are especially used for premature infants whose underdeveloped nervous systems may lack the ability to regulate their own body temperatures.  Incubator maintaining the small environment of desired temperature which minimizes the heat loss.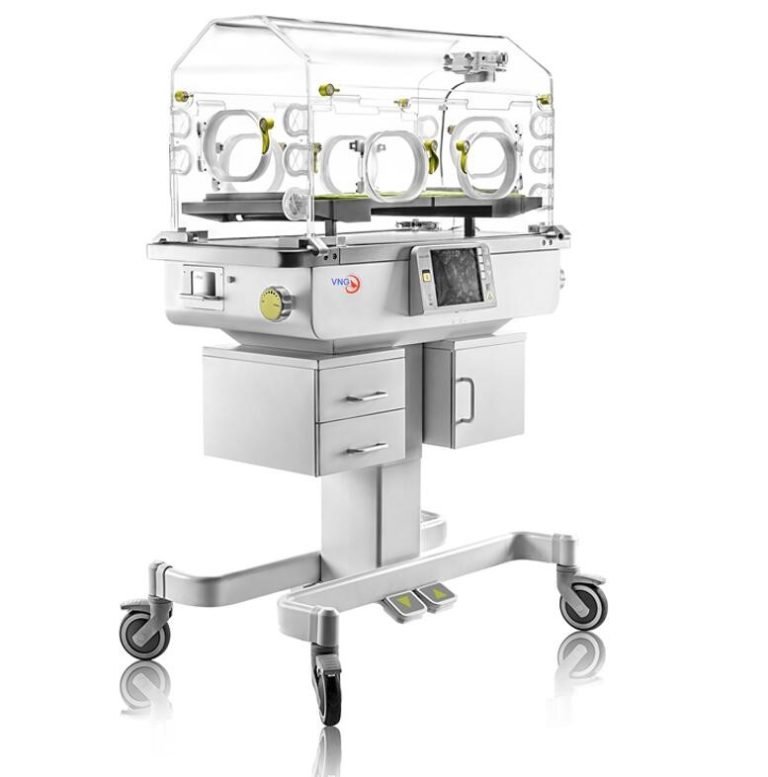 Once the heat loss is reduced, the nutrition given to premature babies will be utilized development of the body.
It has a cater wheel for easy mobility. It provides sufficient amount of heat to the body of the infants. It has light weight, Strong construction, comfortable seats and excellent functioning and specifications, have relative humidity option, swivel mattress, all around access, uniform central thermal environment. It consists of three channel temperature sensors with having alarms to derive attention for temperature change.
Incubators consist of the baby tray that is enclosed in a box like structure to provide a fix warm environment. The box is generally made of fibre glass or acrylic. The heat generated by heating mechanism is not used directly to heat the body. This heat is used to warm the air mixture which is then circulated in closed environment around the baby. Incubators are available both with single wall and double wall, and is totally depends on temperature in which it is to be used. 
The baby should be kept in an incubator only as long as it is needed in the best time frame. Precaution should be taken while removing the baby from the incubator, so as not to move the baby immediately from a comfortable warm environment to a cold environment resulting in a high temperature gradient. Hence when the baby starts gaining weight, it is a practice to gradually reduce the temperature of the incubator. It is recommended to clean and disinfect the instrument regularly to avoid infection.
Corona protection Face Shield:-
To protect the facial area and mucus membrane (eyes, mouth) from the transmission of body fluids, it is critical that we count on the health of people.
Wear a face shield, save yourself and others from the exposure of the virus
Reusable shield.

Unobstructed view.

Sterilizable.
Safety brings first aid to the uninjured.
Introducing the new Personal Protective Equipment kit:-
The first step for our warriors of nation is to
Specify the right level of protection by use PPE and exceed the level of protection against workplace hazards.
Be prepared before corona knocks your door
It includes:-
3 ply mask

shoe cover 

Head cap 

Goggles

Gloves

coverall 
Safety brings first aid to the uninjured.
Automatic Digital blood Oxygen saturation monitor for pulse rate.
This non invasive tool is used to monitor the amount of oxygen carried in the body and pulse rate.
During the COVID-19 pandemic in conjunction with our triage tool , you can determine the severity of the disease.
Features:-
Monitoring oxygen saturation over time.

Altering to dangerously low oxygen levels.

Indicating side effects in the people taking drugs.
Safety brings first aid to the uninjured.
National & International sale
Cardiocare works in a most transparent way. Our valued customers often visit our facilities to see for themselves the entire production process from the raw material to the finished products. We do not promise the moon if we cannot deliver it. As a result, we cover all major states of India; our products are used in many renowned hospitals both nationally and internationally, we have a large number of customers in many different countries worldwide.