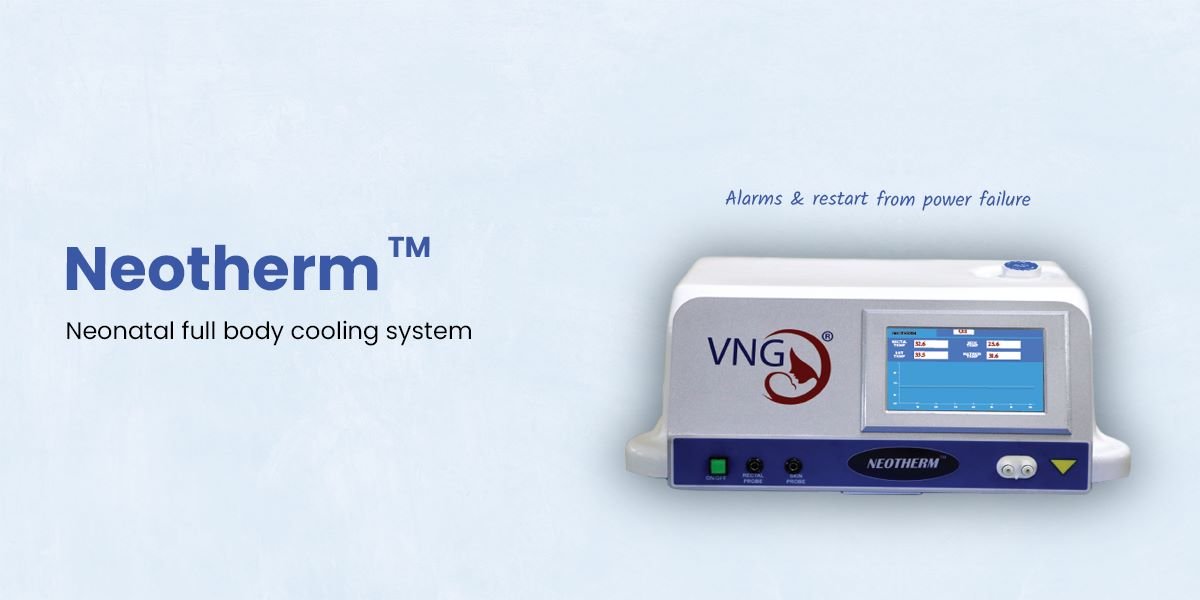 Alarms
Data Storage

Rectal Probe Use

Restart from Power Failure

Specifications
Dimension: 

L 460mm, H 530mm,W 530mm

Weight: 

17kg (Note: weight when reservoir is full of Fluid)

Electricity Consumption:

-1.5A/230 VAC,3.1 A/110 VAC, Max. 345 W

Noise output :-

54-54.5dB (Mean value 1m distance)

Fluid capacity:

 350ml (Inner Tank). 500ml (Fill Up Set)

Fluid active ingredients:

 Water

Minimum Fluid Temperature :-

12°C

Maximum Fluid Temperature :-

39°C

Maximum Patient Weight :-

 10kg
Neotherm Neo Starter kit:- 

TS-NEO-SK

Includes:- 

Neotherm™ Neo Mains Cable

1 Rectal Probes(Reusable)

1Skin Probes(Reusable)

2m Mattress Connecting Hoses 

And a fill-Up Set

Inter Layer Foils (Case of 10)

Also, 1 Aqua Wrap Around Mattress complete with ties (Reusable)
How Neonatal -Neonatal Full Body Cooling System Works?
Hypothermia Therapy:-
One established treatment that can minimize permanent brain damage from hypoxic-ischemic encephalopathy (HIE) or Birth Asphyxia. However, it must be given very shortly after birth/the oxygen depriving incident in order to get effective (Ideally within six hours). This treatment is known as hypothermia therapy, but it has many other names, such as "therapeutic hypothermia," "cooling therapy" and "neonatal cooling. Thus, "Hypothermia therapy involves cooling the baby down to a temperature below homeostasis to allow the brain to recover from a hypoxic-ischemic Injury. Typically, the target temperature is about 33.5 degrees Celsius (92.3° Fahrenheit)
Neo Cooling:-
A closed-loop control cooling system consists of a mattress that's wrapped around the baby's trunk and legs. The device, fully automated and requires no further input after initiation. The baby temp cooled to 33.5°C within 25 minutes. So, this temperature maintained for 72 hours and a fully automated re-warming phase starts. The re-warming phase occurs to 37°C at 0.02 to 0.5°C/hour.
Instruction To Use:-
A rectal probe is inserted into the patient (approximately 3 to 5cm) and the temperature is feded back to the Neotherm™.Using thermoelectric cooling module the temperature of the cooling fluid is controlled by varying the amount and direction of electric current. This increases and decreases the fluid temperature by small amounts. The fluid is then passed around the infant using a mattress or a wrap returned to the Neotherm™.  The thermal properties of the fluid make it extremely efficient at heat transfer and the Neotherm™ uses surprisingly little energy to maintain a constant temperature.
Alarms:-
Simple alarms in the Neotherm™ ensure that users and nursing staff are drawn to the device only when there is a problem. These alarms include:
Low fluid
Low Flow
Also, temperature Out of Range
Data Storage:-
You can transfer One Therapy Data up to 80 hours to system using software.
Modes Of Operations:-
Servo-Controlled Rectal temperature
The Neotherm™ Neo maintain the temperature that Clinician has set via the rectal temperature probe. Rate of change can also be set allow even re-warming and cooling.
Accessories:-
The Neotherm™ has a complete range of accessories. In other words it has mattresses and Wraps with lining sheets for contact with the baby, rectal and skin probes, surface water Connecting Hoses, Fill-Up Set.
Features:-
Data Storage for allows simple analysis of temperature profiles | Also, large color screen is easy to see across the room | Bench top mountable for space saving small/Lightweight potable device | restarts from same settings in event of power failure | USB output | Optional use of skin probes.
How It Works:-
-Induces cooling rapidly to desired core temperature.
-It should maintain the core temperature within the target range.
-Allows re-warming in a slow and controlled manner.
-It should be easy to use.
-Required minimal nursing input.
-Not interfere with access to the baby.
-It includes Smooth, linear re-warming.
Also Compatible with reusable accessories.