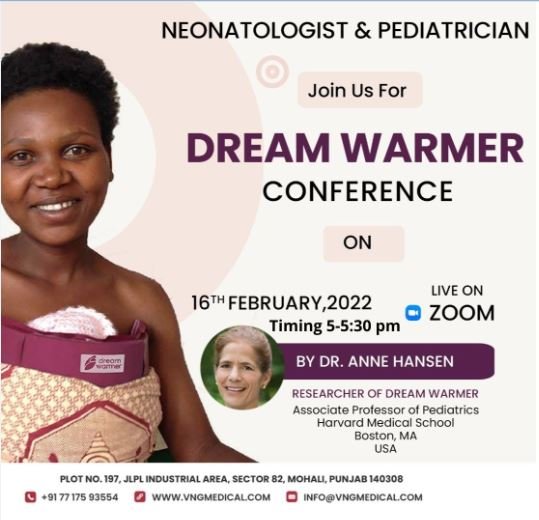 Agenda for the meeting:
Introduction and demonstration of the device Dream Warmer.
A collaboration with Dr. Anne Hansen, she is the genius mind behind this device, and she will be joining us at the meeting to demonstrate about the device with VNG Medical.
Dr. Anne Hansen is the Medical Director of the Neonatal Intensive Care Unit and Associate Chief of the Division of Newborn Medicine at Boston Children's Hospital.
VNG Medical invites you to join this event and honor us with your meaningful presence. We have always worked to uphold our values "EVERY NEWBORN LIFE MATTERS".
Product:
DREAM WARMER– AN INNOVATIVE, SAFE, AND EFFECTIVE COMPLEMENT TO SKIN-TO-SKIN CARE FOR NEONATAL HYPOTHERMIA.
Dr. Hansen and her team developed a reusable warmer that operates similarly to a heating pad.
Main features:
Affordable and available at low cost.
No electricity required for its operation.
This device can maintain skin temperature for about 6 hours.
Date:
16th February 2022
Time:
(5:00 – 5:30 pm)
Zoom Meeting Link:
https://us04web.zoom.us/j/76216127572?pwd=3CxseNPEyWQQAM5grEI6dmlmiw45iC.1
We are awaiting your gracious presence!
Thank You!